Peter N. Saeta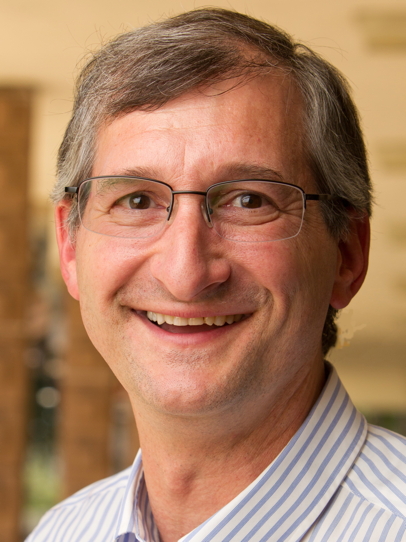 Professor (1995)
PhD Harvard
Ultrafast physics, semiconductors, photovoltaics, energy and environment
Office

Keck 1231

Phone

909-607-3939 (office)
909-621-8024 (department)
909-621-8887 (fax)

E-Mail

Page
Photovoltaics are the fastest-growing renewable energy source over the last three years and have the potential to supply a significant fraction of our electricity needs. Conventional silicon cells are made of thick crystals because silicon is a weak absorber in the infrared and much of the visible. Thin solar cells require less energy and material to make and may lead more swiftly to widespread deployment of photovoltaics.
A challenge facing thin cells is to maximize the absorption of the solar spectrum. We explore the enhancements to absorption in thin-film cells made possible by metallic nanoparticles and other structures designed to scatter incident radiation into guided modes propagating parallel to the cell's surface.
Requesting a letter of reference
Recent Publications
Madison Rae Blumer, Sophia Laurice Harris, Mengzhe Li, Luis Angel Martinez, Michael Untereiner, Peter N. Saeta, Timothy S. Carpenter, Helgi I. Ingólfsson, and W. F. Drew Bennett

Simulations of Asymmetric Membranes Illustrate Cooperative Leaflet Coupling and Lipid Adaptability

Frontiers in Cell and Developmental Biology

8

(2020)

575

.

Jonas Leif Kaufman, Scott H. Tan, Kirklann Lau, Ashka Shailesh Shah, Robert G. Gambee, Christopher P. Gage, Lupe Maria MacIntosh, Albert Dato, Peter N. Saeta, Richard C. Haskell, and Todd C. Monson

Permittivity effects of particle agglomeration in ferroelectric ceramic-epoxy composites using finite element modeling

AIP Advances

8

(2018)

125020

.
More publications
Course Schedule
Monday
Tuesday
Wednesday
Thursday
Friday

12:40–14:40


Physics 50


Keck B127

15:00–16:15


Physics 147


Shan 2460

11:00–12:15


Physics 193


15:15–17:15


Physics 50


Keck B127