Vatche Sahakian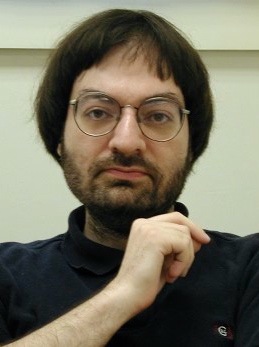 Professor (2003)
PhD Chicago
Theoretical physics, including string theory and cosmology
Office

Jacobs 1224

Phone

909-607-4592 (office)
909-621-8024 (department)
909-621-8887 (fax)

E-Mail

Page
Professor Sahakian is interested in understanding the small scale structure of space, in a context where both gravitational dynamics and quantum mechanics become important. This realm often involves studying black holes, unravelling exotic dynamics such as non-commutative geometry, and exploring new frameworks that extend the Standard Model of particle physics and standard inflationary cosmology.
Recent Publications
Vatche Sahakian, Yossathorn Tawabutr, and Xinrui Yan

Emergent Spacetime & Quantum Entanglement in Matrix Theory

Journal of High Energy Physics

08

(2017)

140

.

Paul L. Riggins and Vatche Sahakian

Black hole thermalization, D0 brane dynamics, and emergent spacetime

Physical Review D

86

(2012)

046005

.
More publications
Course Schedule
Monday
Tuesday
Wednesday
Thursday
Friday

10:00–10:50


Physics 24


Shan B470

11:00–11:50


Physics 24


Shan B470

09:35–10:50


Physics 24


Galileo McAlister

10:00–10:50


Physics 24


Shan B470

11:00–11:50


Physics 24


Shan B470

09:35–10:50


Physics 24


Galileo McAlister