What do some our alumni say about their education at HMC?
Joseph Thywissen ('94)
Harvard University
Congratulations on the department's recent vigorous activity! It sounds great in that it provides more research opportunities for undergraduates....
Jan. 1, 1997
Jason Goldberg ('94)
IBM Almaden Research Center
I would say, using myself as an example, having a Physics background is a tremendous asset no matter what field one decides to go into. I really think that the problem solving skills I learned as a Physics major have helped me in my Engineering work. Also, since Physics is so fundamental to everything else (perhaps my view here is a little jaded?) there is no way to go wrong by learning Physics first and then moving up to other disciplines. ('Up' in the sense that 'C' is a higher level language than 'assembly'.) And now seems to be a great time for well-skilled scientists here in the Silicon Valley. The group I am in at IBM is concerned with magnetic disk media and most of the PhD's are from Physics/Material Science backgrounds.
Jan. 1, 1997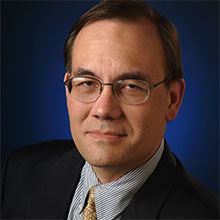 Scott Pace ('80)
George Washington University
Physics majors can certainly go on to do all kinds of strange things, even public policy and international affairs:
Physics training has been an invaluable aid throughout my career despite my grade in quantum mechanics. : >

Sept. 1, 2012
Fred Streitz ('83)
Auburn University
I love teaching (but then, I learned from the best), and love my research - it's trying to do both all the time that I am finding taxing.
Jan. 1, 1997